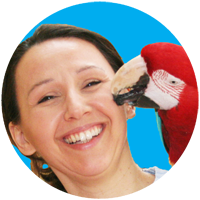 My name is Ann Castro
I help parrot owners turn their problem pets into soulmates
Coaching is not a magic wand. It requires your work to implement my guidance. In almost twenty years of successfully working with aggressive and screaming parrots I have seen two types of owners:
Type A
The type A parrot owners are not willing to do the work or get out of their comfort zones. They expects a done-for-you service. They are mainly interested in their own wants and needs, not the birds. That does not really work. Behaviour does not occur in a vacuum, but is largely determined be the bird's keeping conditions and your behaviour.
If you are not willing to put in the work, please stop reading now. I will not coach you, because doing so would waste your money and my very limited time.
Type B
The type B parrot owners view their parrots as family members - as their feathered kids. They are willing to take full responsibility. Their birds' well being is what is most important to them. These owners are willing and able with my help to implement the required changes to shift the entire situation.
They will change the birds' keeping conditions, as required. They will also put in the behaviour modification work needed. These owners - guided by me step-by-step - manifest enormous transformations in their birds' behaviours and relationships with them.
If you are this type of owner, I would love to help you in resolving your parrot problems.
Your first step is to book a discovery call with me.
Discovery Call
Before we start working together we need to get to know each other to see if we are a good fit.
In our discovery call, ...
we will talk about your birds, your pain and your questions, ...
and we will explore, whether my 1:1 coaching is a good fit for you and your issues.
It's now up to you ...

Take the first step, now, and register for your discovery call with me. 😀
I'd love to help you and am looking forward to getting to know you!
Hugs,
Ann. ❤️