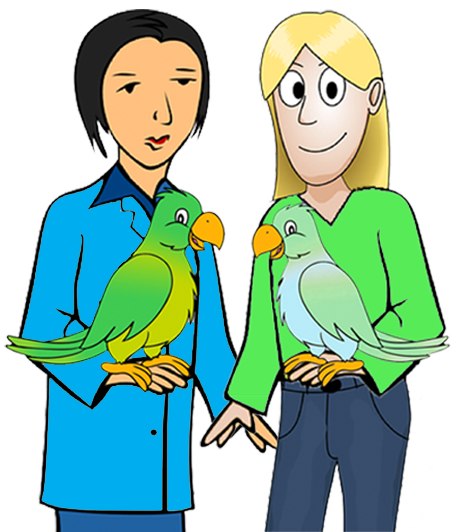 1-on-1 Coaching for Parrot Owners & Parrots with Extreme Problem Behaviours
Coaching packages start at €1500
Does your parrot exhibit extreme problem behaviour?
Dreams & Wishes
Parrots are essentially wild animals and not particularly suited to life in our living rooms. Because of their intelligence they are able to adapt to situations and become charming pets especially whilst they are still sexually immature. This is what most owners envisage when they embark on sharing their life with parrots.
Reality
However, the reality often turns out to be quite different. Hand reared parrots show a significant propensity for problem behaviour which typically begins to manifest as the animals approach maturity. Combined with keeping conditions that do not fulfill the birds most basic social or physical needs parrots often show extreme problem behaviour.
Resolution
This can be resolved. However it requires the owners' willingness for deep change. Resolving problem behaviour is not just a matter of training, If that approach is taken, some improvement may initially occur. However, the animal will eventually revert back to problem behaviour, in particular when the training stops. To achieve long term resolution, the bird's total keeping conditions must be addressed.
Are you committed to deep change for long term resolution? 😃❤️

Great, Read on ... 😉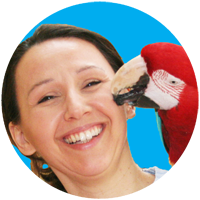 My name is Ann Castro
I help parrot owners turn their problem pets into soulmates
Coaching is not a magic wand. It requires your work to implement my guidance. In almost twenty years of successfully working with aggressive and screaming parrots I have seen two types of owners:
Type A
The type A parrot owners are not willing to do the work or get out of their comfort zones. They expects a done-for-you service. They are mainly interested in their own wants and needs, not the birds. That does not really work. Behaviour does not occur in a vacuum, but is largely determined be the bird's keeping conditions and your behaviour.
If you are not willing to put in the work, please stop reading now. I will not coach you, because doing so would waste your money and my very limited time.
Type B
The type B parrot owners view their parrots as family members - as their feathered kids. They are willing to take full responsibility. Their birds' well being is what is most important to them. These owners are willing and able with my help to implement the required changes to shift the entire situation.
They will change the birds' keeping conditions, as required. They will also put in the behaviour modification work needed. These owners - guided by me step-by-step - manifest enormous transformations in their birds' behaviours and relationships with them.
If you are this type of owner, I would love to help you in resolving your parrot problems.
Your first step is to book a discovery call with me.
Discovery Call
Before we start working together we need to get to know each other to see if we are a good fit.
In our discovery call, ...
we will talk about your birds, your pain and your questions, ...
and we will explore, whether my 1:1 coaching is a good fit for you and your issues.
It's now up to you ...

Take the first step, now, and register for your discovery call with me. 😀
I'd love to help you and am looking forward to getting to know you!
Hugs,
Ann. ❤️
What customers say ...
"I never thought that I'd be able to connect with this brutish bird. Thousand thanks for your help." — Dennis S. "Hurray, hurray ....it worked, ... E. actually admitted to me today: "Things have gotten so pleasant with our birds!"
I cannot express in words how infinitely grateful I am to you. Honestly, I thank you from the bottom of my heart." — Semsa S. "We have to praise and thank you again and again. Without you we would never have been able to accomplish life with our birds as it is today." — Helga R.
Life with parrots can be so amazing! Together, we can create this! 😀
About me
2017: WP-Magazin, Europe's largest publication for parrot owners, appointed me to their expert council
2013: German national TV station VOX gave me my own TV-Show on solving parrot problems
2006: Published my first book which became known as "the clicker bible" ;-) on clicker training for parrots
2003: Taught first clicker training weekend workshop for parrots
2001: Moderated training, nutrition and health topics for Germany's largest bird forum
As featured in ...