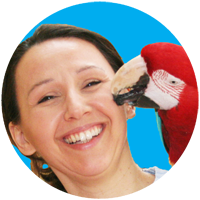 Book your FREE assessment call* with me, now ...
Coaching truly is the best way to solve any issues you may have with your parrots and to fast track your training and relationship building efforts, but sometime all you need is a quick tip or a pointer towards some other resource.
In our FREE 15 minute assessment call*, ...
we will talk about your birds, your pain and your questions, ...
and I will give you an honest expert assessment about what is really going on and what you need to do to fix it
Sometimes - all you need is a tip ...
If a tip is sufficient to fix your problem. I will give you that tip. If you need more - I'll tell you that too. Maybe what you need is coaching or a book. Whatever it is - I will give you my honest expert opinion on that, too.
Not a sales pitch ...
This call is meant to help my flock - you. I promise, I will not make you uncomfortable by badgering you with sales talk. If you'd like to know more about working with me, then ask me. Simple as that. No worries.
Let's get the most out of our 15 minutes ...
15 minutes can be a lot of time ... or very little. In order to get the most out of your FREE assessment call, please fill in my pre-call questionnaire, below. This gives us a head start on the information exchange that needs to take place before I am able to give you a meaningful assessment.
Book your free assessment call* by clicking the button below and answering a few questions.
I am looking forward to getting to know you personally. 😀
I'd love to help you! Hugs, ❤️
Ann.
* Limited to ONE PER PERSON
Pre-call questionnaire